How to Design
step 1

Choose The Item You Want
There are pillows, t-shirts, blankets, etc. for your choice.
step 2

Choose The Design
Use the default picture or Upload your own
Step 3

Arrive Safely And Quickly
You will receive a satisfied item!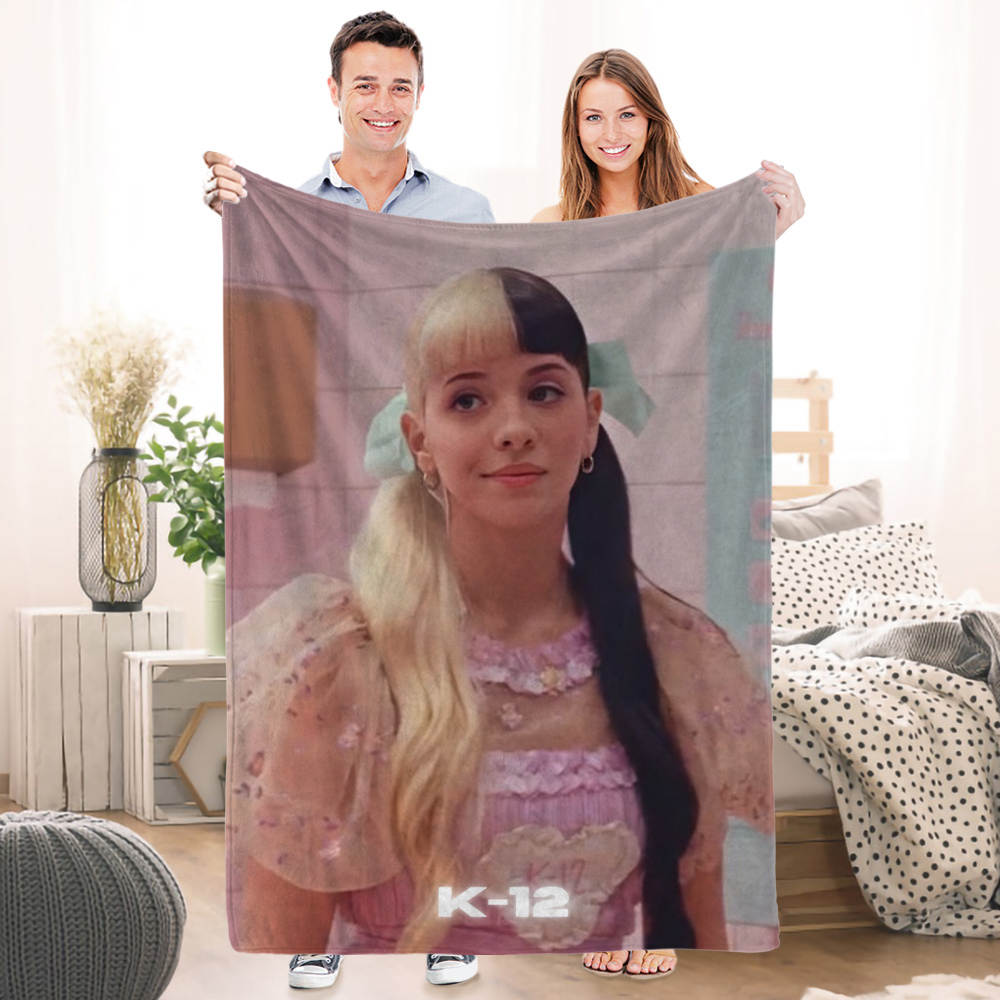 Melanie Martinez Blanket k-12 Film Blanket
description

This unique Melanie Martinez blanket is the best perfect gift for him/her for all ages that the perfect gift for Valentine's Day, Christmas, Birthday or any other occasion.
shipping

Spedizione gratuita per ordini superiori a 49 €

Puoi scegliere il metodo di spedizione durante il checkout:

Spedizione standard: 5,99 €

Arriva 7-9 giorni lavorativi dopo il tempo di produzione

Spedizione Express: 19,95 €

Consegna 2-5 giorni lavorativi dopo il tempo di produzione
Who is Melanie Martinez?
Melanie Martinez was born on April 28, 1995. She is an American singer, songwriter, actress, director, photographer, and screenwriter. She participated American Program --- The Voice (the third season) and got the top six contestants, the audition was confirmed by the mentors for the adaptation of Britney Spears' "Toxic".
on April 22, 2014, the single 《Dollhouse》 was released, and the EP of the same name was released on May 20..
On August 14, 2015, Melanie released her debut album 《Cry Baby》. The song《Play Date》was included in this album. And it became one of the top 100 most-played songs on Spotify in the US after gaining popularity on the video-sharing application, TikTok.
On January 22, 2016, Melanie released a new single 《Gingerbread Man》.
On December 23, 2017, The single 《Piggyback》 was released on SoundCloud.
On September 6, 2019, the second studio album 《K-12》 was released.
On September 25, 2020., the second EP 《After School)》was released.
Dress up as Melanie Martinez
Melanie Martinez is also a fashion person. Many people adore not only Melanie`s talent but her fashion style. Melanie Martinez's style is based on a casual Lolita fashion and inspired by the latest trends from runway shows. It is hard not to fall in love with her style and personality.
Melanie Martinez T-shirt: T-shirts are must-have apparel in the summer season as the main part of a summer wardrobe. So you need some cool t-shirts. Why not Melanie Martinez t-shirts. Our Melanie Martinez Merch has got you all covered as it comes with a wide range of items for the summer season. Our Melanie Martinez t-shirts have many sizes so no matter what kind of body shape, you can get suitable t-shirt here.
Melanie Martinez Blanket: Let Melanie Martinez Blanket accompany you and bring you warm. You can choose various blankets with Melanie Martinez pictures.
Melanie Martinez Hoodie: These hoodies are highly durable. In addition, They are Lightweight, unique and stylish. It is easy for you to clean. Melanie Martinez hoodies are super comfortable. You will love to wear it.
Melanie Martinez Pillow: Pillow is a common item in home life. As a fan of Melanie Martinez, owning Melanie Martinez pillow will make life warmer. Our pillows are soft and comfortable. Holding it in your arms can provide warmth and some protection. It gives people a warm feeling and has become a common accessory and a must-have item for home use and decoration.
Why Choose Melanie Martinez Merch Shop?
For all Melanie Martinez's fans, we have a lot of surprising collections At the Melanie Martinez Fans Merch Store, everything we promise revolves around our mission to serve a large number of Melanie Martinez lovers that rarely sell a wide range of products and are all licensed. We want to respect Melanie Martinez because she has brought lots of happiness to us. We are committed that customer satisfaction always comes first, treat our customers with the utmost respect and provide them with the highest quality service they deserve.